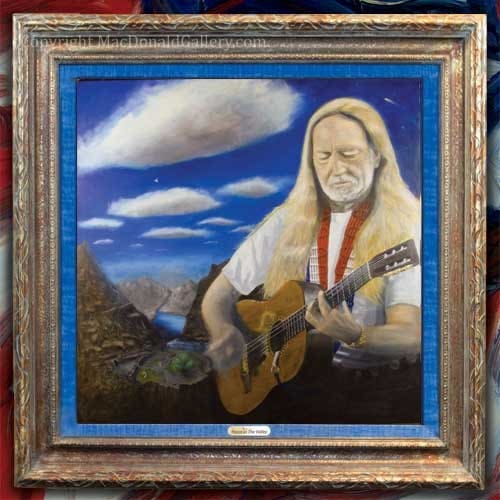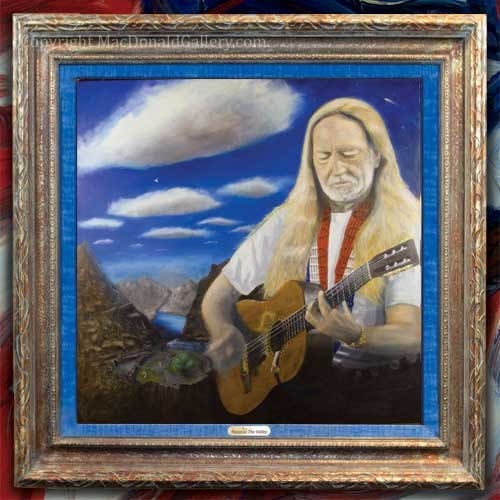 Peace In The Valley is the cover of Willie Nelson's upcoming album to be released early December 2014. The painting is a 6' x 6' allegorical depiction of the classic gospel song as recorded by Willie Nelson and produced by artist MacDonald.
Standing humbly, high on the mountain top, Willie plays his worn, yet trusted, and obedient guitar. Down below is an artistic representation of the Garden of Gethsemane.  As well as visualizing the song's story, the painting is embedded with symbolic representations, some obvious – many quite subtle and obscure as well as perspective representation.
The accompanying art music video was directed, shot, and edited by MacDonald. Willie's emotional live performance is blended with shots of the actual painting – from its early raw state, to its completed colorful form – keying in on a few symbolic representations. MacDonald makes several cameo appearances, including the painting of Willie's guitar, a profile from 20,000 feet, and two appearances taken at the grave site of Vincent Van Gogh in Auver-sur-Oise, France.
For more information and updates see the category: Peace In The Valley.