PEACE IN THE VALLEY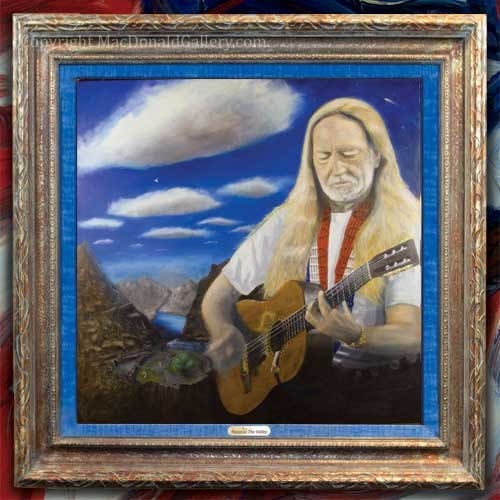 Peace In The Valley, is the cover of Willie Nelson's album of the same title.  The painting is a 6' x 6' allegorical depiction of the classic gospel song as recorded by Willie Nelson.  For more on the cover painting see: Willie Nelson – Peace In The Valley
The AlphaOmega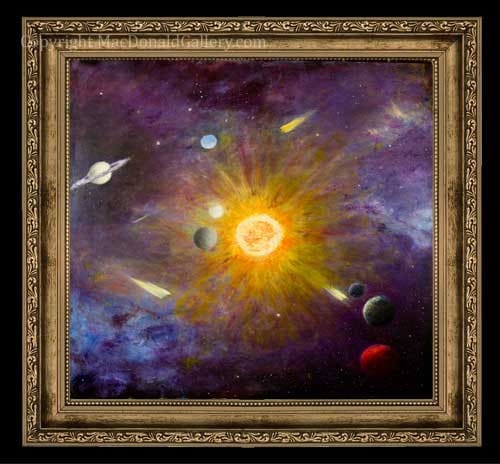 The AlphaOmega is is a 6′ x 6′ painting realistically and symbolically visualizing the inseparable relationship of "Creation" and "Destruction" of the universe, i.e. it is a continuous act, and everything occurring in between is only a change of form coming full circle.
GLORY BE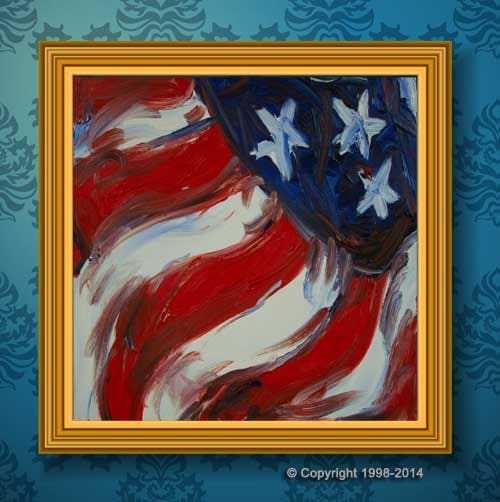 Glory Be is of the US flag depicted uncommonly from the back side.  This represents the new sort of "awkward patriotism" we seem to be living in.
STILL LIFE WITH BIBLE After Van Gogh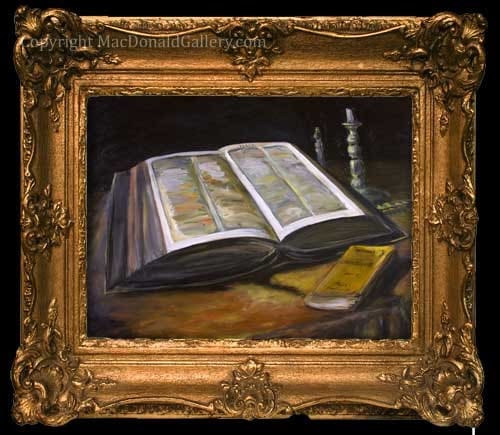 I painted Still Life with Bible after Van Gogh especially for the Willie Nelson album.  The words to Willie's song "Family Bible" appear on top of it in the CD booklet.  Originally, I was going to use a painting of the same subject I had painted years ago.  However, besides painting it  years ago, I also sold it years ago too.  The pictures I had of it were not as good as I would have liked.  I thought about contacting the person who purchased it, but the potential complications of getting it back for better photography seemed to make it more practical to use another version.  Plus I have seen the original Van Gogh painting many times in Amsterdam and always had it in the back of my mind to paint a full scale version.
I think the Van Gogh Bible was a good subject to use with Willie's Family Bible because Vincent Van Gogh used it as a comparison of his relationship between him and his father.  Van Gogh made the painting of his father's Bible as a symbol of his father's faith, which Van Gogh viewed as too traditional making for a strict course of life.  The Bible is open to Isaiah 53 which foretells the coming of the Messiah.  The small book next to it is Émile Zola's novel "La Joie de vivre" (The Joy of Living) that Van Gogh identified with as a "Bible for modern life".
As compared to Willie, I think Van Gogh's Still Life with Bible pairs his traditional views and gospel music juxaposed to his more liberal views.
Willie Nelson Peace In The Valley will be available from most major music sellers, or directly from Promised Land Music.